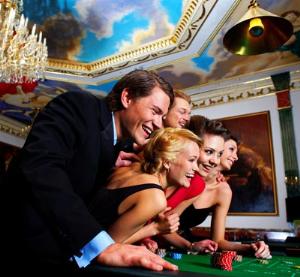 Harlequin Fun Casino have full size, authentic and professional casino tables to hire for any event. Along with the tables, we supply all accessories including playing cards, chips, and fun money, and each table is manned (or womaned!) by a smart, friendly professional croupier. Our croupiers are really friendly and will happily help explain the rules of any of the games to you and your guests. A fun casino is meant to be fun, so our croupiers make sure everyone is able to play and nobody feels they can't join in.
Fun casino tables are exactly the same as real casino tables, the only difference is, ours break down into smaller parts so that we can move them from one venue to another with slightly more ease than real casino tables! At a fun casino, guests play with "Fun Money" and no real money changes hands, so it's a great way to learn how to play the games without the fear of losing lots of your hard earned cash! We offer a prize at the end of the night for the "High Roller" of the night, as decided by our croupiers at the end of the casino night.
When you hire a fun casino for your event, you can be sure you're offering your guests riveting entertainment that everyone can enjoy! Book your party date in our diary today to avoid disappointment!