Private Party Poker Nights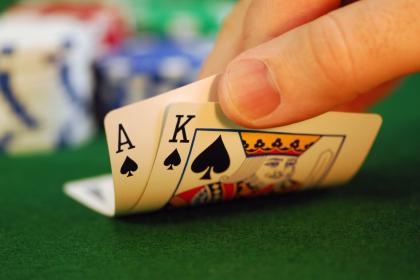 It's no surprise that poker is fast becoming one of the most played card games in the UK, and private games are now very popular. Here at Harlequin Fun Casino, we have full size, authentic Poker tables to hire for private poker nights and poker tournaments. Private house party poker nights are absolutely great fun for you and your guests and are a perfect idea for Stag nights, birthday parties or annual club dinners. The beauty of playing in your own venue is the convenience and laid back atmosphere. You make all the rules!
To ensure our games are as authentic as possible, we source all poker chips and cards from Las Vegas. For advanced bookings, we can even order playing cards from your favourite Las Vegas casino, or have personalised plastic or clay poker chips made to your exact specifications. Our tables look fabulous and our dealers have an intrinsic knowledge of the game so you can be sure your poker experience will be as smooth and as authentic as possible.
For an extra treat, why not hire a cocktail waiter or waitress to ensure you and your guests have a plentiful supply of drinks and snacks throughout the night?
If you're planning a poker game, a poker tournament or a corporate poker tournament, why not get in touch and see what we can do for you.