Fun Casino Tables
Harlequin Fun Casino are a company specialising in the hire of real full size casino tables for parties, weddings and events. Our casino tables are full size, which means they are the same size as the casino tables you would play on in any real casino anywhere in the world. We have had our tables styled on the beautiful casino tables that can be seen in Caesars Palace Las Vegas. Every effort has been made to make your casino experience as authentic as possible. The playing cards we use on our Blackjack tables have been purchased from a specialist store in Las Vegas who supply us with cards which have been used on the casino tables to play live casino table games in all the top casinos, such as Caesars Palace, Bellagio, MGM Grand, The Wynn and many more. When your guests play Blackjack with us, they'll be playing on top quality equipment with authentic cards, chips and accessories.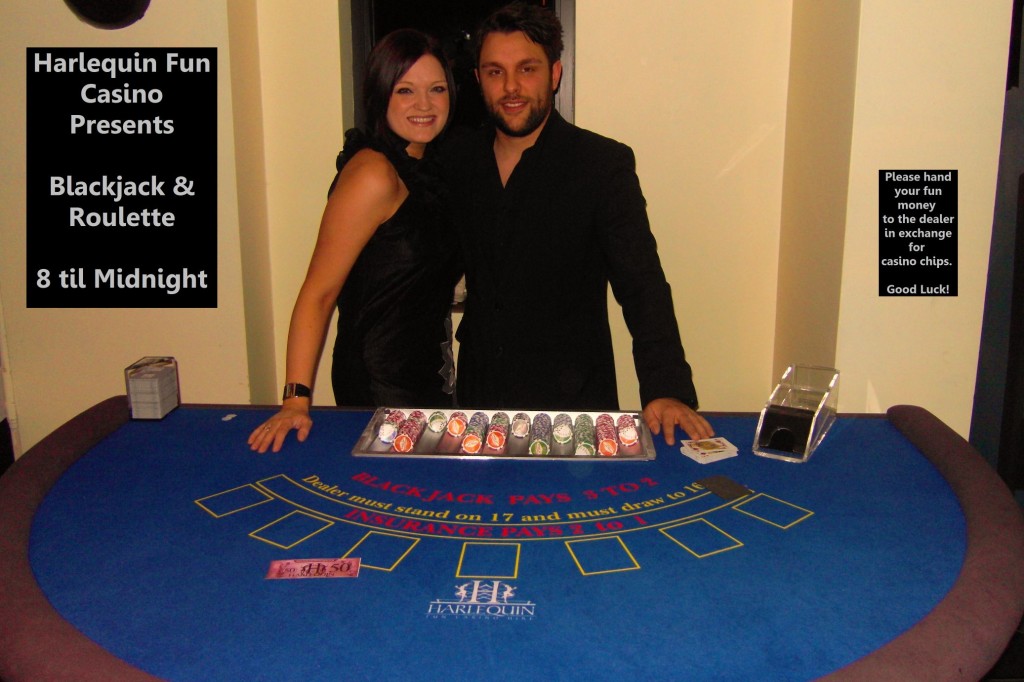 Harlequin exclusively use full size, authentic fun casino tables, and we ensure we keep them looking as fresh and new as the day they were made. Our tables are complete with sturdy legs and bases, so unlike some other fun casino tables, we do not need tables at the venue to put our tables tops onto. All we need is space to place the tables! We'll set the entire casino up for you, you won't need to do a thing! And for some people who cannot access the casino, you can click here ここをクリック to play and enjoy our online casino version. Even so, we still recommend a visit to our casino venue. All images on our website depict our actual casino tables. We promise to supply you with a fabulous product and a flawless service. It's important to us that you and your guests have a wonderful time playing on our casino tables, so we make every effort to ensure your experience is authentic and a lot of fun!
We hand out pre-printed fun money to all of your guests, which they can bring to the tables at their leisure and exchange for casino chips. They then use the casino chips to make bets on the tables. When they've finished playing, they cash their chips back into the dealer. If you'd like to offer a prize for the best player, we can keep track of the big winners and award prizes at the end of the night. When you hire a fun casino, you're offering your guests something really special and a lot of fun which they may never have experienced before! Casino games are utterly irresistible, and it's such a great opportunity to play without having to gamble your money away.
When you're considering hiring a fun casino for your event, it's important to know exactly what you're looking for. Fun casino tables come is a range of shapes and sizes, so it's helpful to know what to look out for when hiring a fun casino. We can't tell you what other companies will offer you, but to find out what you can expect from Harlequin, take a look at our service in more depth here. If you have the time, please have a read of our guide to hiring a fun casino to help you out.
We'll deal directly with your venue to organise set up times and space allowances so you don't have to worry about a thing. We always set the tables up with plenty of time to spare so you can relax and enjoy your event!
Roulette Tables
Our Roulette tables are 9 foot in length and 5 foot wide. Easily the most impressive to behold, the Roulette tables are striking and very large. Roulette is an easy game to play, and easy to pick up the rules if you're a beginner. Roulette is a game of chance, a game of luck and contrary to popular belief, systems can be played to increase your chances of winning. The great thing about Roulette is that you don't really need a strategy. You just need to bet smart and take a few risks when you feel brave! Sometimes your bravery will pay off, other times, it won't. That's the beauty of Roulette! It's fast paced, fun and exciting, and anyone can play young or old. The great thing about fun casinos is that there's no real money changing hands, so you can learn to play the game with no fear of losing your cash!
The Roulette wheels we use are also authentic and full size, measuring 80cm in diameter and made of Mahogany and Rosewood. If you've never seen a full size Roulette Wheel before, you'll be surprised at how large and imposing they are! We only use flawless equipment and we keep our gorgeous Roulette Wheels in tip-top condition. We pay attention to the smallest details so that our fun casino tables look fabulous at your event.
We purchase all of our accessories in person from a gambling supplies store in downtown Las Vegas, from the casino chips to the balls we use on the Roulette Wheel. When we say authentic, we mean authentic.
Blackjack Tables
Our Blackjack tables measure 6 foot in width and are just over 4 foot deep, the exact same size as the Blackjack tables in the casinos in Las Vegas. As with our Roulette tables, we only use authentic, top of the range accessories including genuine Las Vegas playing cards and casino chips. We think that these little touches add something extra special to our service to you, and we offer them as standard.
The legs of all of our tables are made from solid rich mahogany, lending them the look of a genuine Las Vegas casino table, and making them extremely sturdy and robust. When you're looking for a fun casino for an event, make sure you're booking full size, well made casino tables that will impress all your guests and look incredible in the venue you choose. We are really proud of the fun casino tables we have, and we make sure they are kept in excellent condition, so that when we set up our tables at your event, they look as fresh as the day they were brand new!