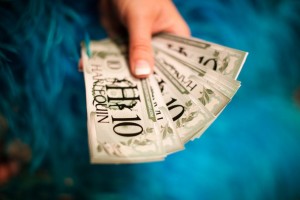 If you're interested in having a fun casino party, or hiring fun casino tables for your event, we'll supply you with Harlequin Fun Money as standard. This is pre-printed money with the Harlequin logo on it which we will distribute amongst your guests, so that they can cash them in at the fun casino tables for casino chips.
If your having a special event and you'd like to mark the occasion, why not order personalised fun money? We can print special fun money just for your event, depicting your name, your company  name and logo, or anything else you might want! We're often asked to design fun money for weddings, with the bride and groom's photo and names on each note.
If you're interested in having personalised fun money at your fun casino, get in touch today and we can chat about the details! Prices start at £40.